Wendy Mulder
Contact Details
Details

Name:
Wendy Mulder
Certification:
Certified Facilitator
Phone:
0431170710
Location:
Shorncliffe Australia
Brisbane
SE & Nth QLD, NSW, VIc, SA, WA, NT, Tas
Australia The WORLD
Email
Email Wendy Mulder
About Wendy Mulder
If you know you'd like your life to be different, but you don't know where to start you're not alone. Have you ever realised you know exactly what everyone else thinks you should choose in your life, but you aren't really clear on what you truly desire?
Most of the choices we have are hidden by our doubt and our judgement of ourselves. We don't allow ourselves to even consider the possibility of joy or ease or pleasure. Fitting in, rather than standing out stops us from knowing our true desires. When we aren't being who we truly are, we can't even see the possibilities available. Yes… we live in a crazy world!!
If you would like your world to be less crazy and more relaxing it's time to ask some new questions.
> What could I choose that would be kind to me?
> What would be different in my life if I wasn't doubting me?
> What have I decided is stopping me from having a different life?
These questions and many others have made an immeasurable difference to my life. My story is below and before you read it I would like to say to you…
What if life and living was a "endless discovery of adventure and joy" and you were the mystery treasure . What if each day you could wipe the judgements away and start to unwrap the gifts of you and your body? Would you be willing to choose that?
A Little About Me
We all have a story. We can use that story to create change in the world or we can use it against ourselves. Bringing awareness to my story opened my eyes to some very different possibilities .After being raped at a very young age I decided that the best way to live was to not be seen or heard. I literally stopped speaking and I removed myself from the world in many ways. That did not create the change I desired. What did create the changes were the tools, processes and information from Access Consciousness®.
Through these tools I found new ways to be present with the grief and to empower myself to show up in the world. What if we could see grief and trauma from a space of allowance, question, and possibility? If grief was a gift, what choices could it offer you and what changes could those choices bring?'
My life, my body and my money flows have changed dynamically in the last few years of using these tools. What if you never gave up on you? What if you never allowed any desire to be impossible? What is right about you that you haven't yet acknowledged?
IF YOU TRULY WOULD LIKE TO BE MORE PRESENT WITH WHO YOU ARE AND TRULY DISCOVER HOW AMAZING YOU ARE… If you would like greater ease in your body and your being…
I invite you to explore... What else is possible now that you haven't even considered?
I offer,
• private grief sessions
• Individual Bars sessions
• Bodywork sessions .... Are you aware of the gift your body truly is ?
• Facilitation of Bars, Foundation and Level 1 classes.
• Transforming judgements with kindness.
Workshops/ telecalls /Radio Blog Talk..... Moving Beyond Grief
Wendy Mulder - RN. BNsc. Midwife . Beauty Therapist. Living with Ease . Certified Access Consciousness Facilitator
Visit my blog for more!
Testimonials
A wonderful honest insight into how we can deal and learn from grief. Incredible ideas of Grief Rituals that can soothe the soul, and other alternative ways to regain the strength and courage to move on. A must read if you, a family member or a friend is grieving.'
Juliana Mullan
'Wendy has burst forth into our midst with her wonderful book. I started reading it and couldn't put it down til I finished it. It was so personal and touching. She expressed into words how one feels and she certainly made her mark. It's that little booklet you can open at any page, at any time and ponder your innermost thoughts.'
Anwen Hughes
'At first it was hard to open this book but once I did I appreciated the knowledge and wisdom which I don't think I would have been able to find in day to day life. For anyone reading this book you can only grow and move forward.'
Luke Mulder
Thank you for your wonderful gift in the form of a book! When I opened the parcel, I saw the beautiful book cover, calmingly inviting me to turn the page. I read the whole book one Saturday morning. It was an easy book to follow, enjoyable, descriptive, wonderfully arranged with full of practical ideas and suggestions. I became absorbed in it. I have, with much confidence, passed it on to a friend of mine whose daughter lost her husband to suicide. With gratitude
Eri Rigg
Subscribe to our newsletter
---
Author of "Learning from Grief "
Find other Great Books here
Find Us on Facebook
Follow this link to read more about Wendy's book - Learning From Grief
Click HERE
.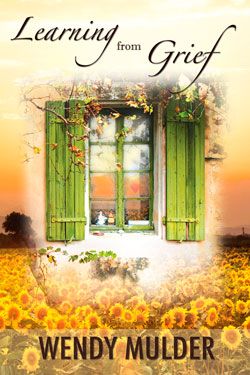 Classes
Wendy Mulder's current class listing.
Scheduled Classes