Welcome to Talk To The Entities - Beginning
What if entity awareness is a potency and gift?
Do you desire to learn how to handle and work with all the entities and energies you are aware of or pretending not to be aware of? And what about getting over all fear and resistance to entity awareness, for real!?
Join us for Talk To The Entities Beginning where you will learn how to develop your own awareness and change the way you see and work with the spirit world.
Using the tools and processes of Access Consciousness® you will gain greater clarity with the magic and ease the spirit world can truly be while simultaneously getting rid of all difficulty and reaction you may have to entity awareness.
Gaining greater consciousness with the spirit world will enhance the ease and consciousness of your entire life.
What if entities are all around us and it is natural and normal to see them, perceive them, sense them and even communicate with them?
Many people are made wrong and driven to varying levels of angst, depression and in severe cases insanity by their un-acknowledged and misunderstood capacities with the spirit world. If you are one of these people or know someone who is, then Talk to The Entities is for you!
Some of the subjects covered in this series will be:
Introduction to the Access Consciousness Processes
Getting out of Fear and into Potency with Entities
Getting rid of all the lies you have bought about entities
Everything you should have been told about Entities that you weren't
Identifying your Entity awareness signs
Clearing and Communicating with Entities
Different Kinds of Entities
And much, much more
Shannon's Talking to the Entities class was so much more than I expected. I signed up because of my curiosity of what is possible in this area. I really had no conscious awareness of how they were showing up in my life. Shannon empowered me to tap into my own awareness and connect with entities. Amazing things have been showing up for me since taking this class and now I have tools and exercises to strengthen my awareness.
– C. DiDomenico New York, N.Y.

Welcome to a whole new way of being in the world and opening up to the profound power that being with entities can be.

What do you know that you are pretending not to know and denying that you know?
Duration
2 Days
Prerequisites
Access Bars Class with any Access Consciousness Certified Bars Facilitator
and
TTTE Introduction or a TTTE Specialty Class
---
Parler Aux Entités® Intro & Commencement avec Ivan Martin en Suisse & en Ligne !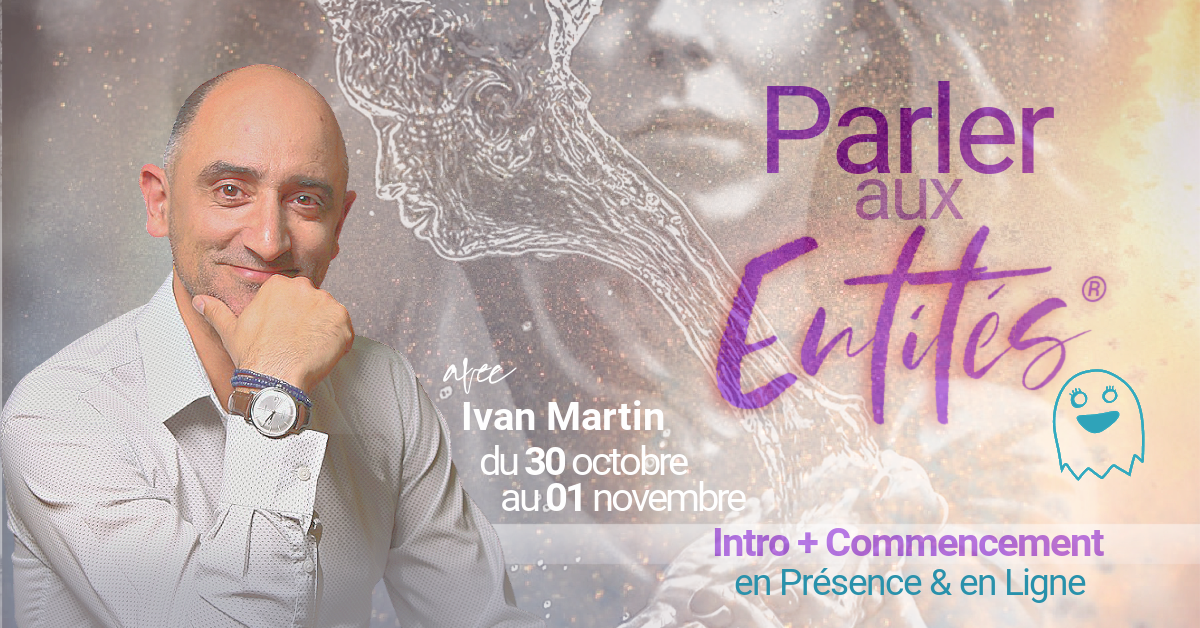 S'offrir un tout nouveau monde...
Développer la capacité de vivre qui libèrent toutes les autres capacités !
Et si on redonnait autorité à la conscience sur Terre...?

A Moudon (Suisse) + En Ligne !


"
Et si la conscience d'entité était UNE PUISSANCE ET UN DON ?
Désirez-vous apprendre à gérer et à travailler avec toutes les entités et énergies dont vous êtes conscient ou prétendez-vous ne pas être conscient ? Et qu'en est-il de surmonter toute peur et résistance à la conscience des entités, pour de vrai !?
Rejoignez-nous pour Parler Aux Entités "Commencement" où vous apprendrez à développer votre propre conscience et à changer la façon dont vous voyez et travaillez avec le monde des esprits.
En utilisant les outils et les processus d'Access Consciousness®, vous gagnerez en clarté avec la magie et la facilité que le monde des esprits peut vraiment être, tout en vous débarrassant simultanément de toutes les difficultés et réactions que vous pourriez avoir à la conscience des entités.
Gagner une plus grande conscience avec le monde des esprits améliorera la facilité et la conscience de votre vie entière.
Et si les entités sont tout autour de nous et qu'il est naturel et normal de les voir, de les percevoir, de les ressentir et même de communiquer avec elles ?
Beaucoup de gens se trompent et sont conduits à des niveaux variables d'angoisse, de dépression et, dans les cas graves, de folie, à cause de leurs capacités non reconnues et mal comprises avec le monde des esprits. Si vous faites partie de ces personnes ou si vous connaissez quelqu'un qui l'est, alors Parler Aux Entités® est fait pour vous !
"

_ Shannon O'Hara (Fondatrice de Parler Aux Entités®)


Certains des sujets abordés dans cette série seront:
. Intégrer les processus Access Consciousness®.
. Sortir de la peur et entrer en puissance avec les entités.
. Se débarrasser de tous les mensonges que vous avez achetés sur les entités.
. Tout ce qu'on aurait du vous dire sur les entités et qu'on ne vous a pas dit.
. Identifier vos signes de conscience des entités.
. Déblayer et communiquer avec les entités.
. Reconnaître les différents types d'entités

. Et bien bien plus encore...
Classe Access Bars® + Classe "Introduction"



>

Une classe ACCESS BARS®

a leu

la veiille de cette classe

, au même endroit : Plus d'info ICI !

>

Une classe "Introduction"

a lieu

la veille de cette classe

, au même endroit et aussi en ligne.
VOTRE INSCRIPTION A LA CLASSE "INTRO" EST INCLUSE DANS VOTRE INSCRIPTION A LA CLASSE "COMMENCEMENT". LE PRIX EGALEMENT)

SI VOUS SOUHAITEZ PARTICIPER A LA CLASSE "INTRO" SEULEMENT: Plus d'info ici !