Ein herzliches Willkommen…
Wenn DU alles haben, tun und sein könntest, was würden DU wollen, was wäre das? - Und welcher Beitrag kann ich dabei sein, es DIR zu erleichtern?

Meine Sehnsucht nach Leichtigkeit, Glück, eine andere Art des SEIN'S…hat mich auf verschiede Wege geführt. Viele Jahre habe ich der Welt eine limitierte Version von mir präsentiert. Ich habe Sichtweisen anderer Menschen angenommen, mich dem Leben angepasst, um als "normal und Teil dieser Gesellschaft angenommen zu werden!" Ich tat mein Bestes um in diese Realität zu passen. Ich war nicht wirklich gut darin, habe meine Begabung und Talente, verschiedene Facetten, von mir nicht gelebt, Möglichkeiten des eigenen "ICH SEIN'S" immer wieder gesucht…
Auf der Suche nach Veränderung und neuem Wissen, begann ich die Ausbildung, als Systemischer Coach und Organisationberatung am institut systemische impulse in Zürich, welche mir einen neuen Zugang zu meinem Bewusstsein, meinen Potentialen und meinem Sein ermöglichte.
...als Ergänzung und Bereicherung zu meiner Coaching Ausbildung, begann mein Abenteuer 2015 bei Access Consciousness® als Access Bars® Facilitator, Body Prozess Facilitator und Energetic Facelift™ Facilitator…
Viele Kurse und Calls bei Gary Douglas und Dr. Dain Heer (Access Bars®, Foundation, COP, ESB, SOP, 7 Day Event, Advance Body Class, Abuse Hold, Symphonie of Possibilities, Maestro Class SOP by Dr. Dain Heer, sowie unterschiedliche Themen Kurse wie ESSE Energetic Synthesis of Structural Embodiment by Dr. Glenna Rice, Taster ESSE mit Pferden mit Suzy Godsey und Glenna Rice, verschiedene 3 Day Body Classes, Joy of Business mit Simone Milasas, diverse Geld und Business Kurse, Talk to the Entities® TTTE mit Shannon O'Hara...
vertieften und erweiterten meine Ausbildung.
Mit Access Consciousness®, habe ich eine Methode gefunden, die schneller, effektiver und einfacher ist als alles was ich bis jetzt ausprobiert, kennen gelernt hatte...mit meinem Interesse an den vielfältigen, sichtbaren und unsichtbaren Facetten des Lebens…kam der Drang nach weiteren Möglichkeiten und noch tieferem Wissen.
So wurde ich 2016 die erste zertifizierte Access Consciousness® Certified Facilitatorin CF in der Schweiz.
Weitere Zertifizierungen zum Certified Being You Facilitator BYCF, Certified Talk to the Entities™ Facilitator TTTE CF und Certified Joy of Business Facilitator JCF, folgten.
Seitdem habe ich mich auf viele verschiedenen Bereiche wie Selbstverwirklichung, das erforschen der eigenen Persönlichkeit, Familie, Körper & Körperarbeit, Gesundheit, Du-Selbst-Sein, Geld, Business, Kommunikation, Hypnose/Hypnosetherapie, Das innere Kind, Quantenpsychologie, Meditationen, Krankheiten und Diagnose, Feinstoffliche Ebenen, Beziehungen, Psychosomatik, Angst verstehen und behandeln lernen, Traumatherapie, weitergebildet und spezialisiert. Mithilfe von über 10 Jahren Erfahrung als Coach & Berater, verbinde ich mein Wissen, die verschiedenen Methoden und durfte Veränderung im Leben von hunderten Menschen mit privaten Sessions, Live- und Online-Kursen facilitieren, und der Leader in meinem Leben bzw. meinem Business werden.
"Ich habe in meinem ganz persönlichen Prozess vieles erlebt und lehre nicht theoretisch, sondern aus der praktischen Erfahrung, dem Leben heraus."
"Die Natur hat mich mit feinen Antennen ausgestattet, die mich in Kontakt mit der Wahrheit hinter den Schein bringen!"
Ich möchte Dir zeigen, dass Bewusstheit und erweitere Wahrnehmung nicht nur wenigen Auserwählten vorbehalten, sondern lernbar ist…das eröffnet die Möglichkeit, uns wieder mit dem "Ur-Sein" verbunden zu fühlen, und legt uns den Schlüssel in die Hände, um mit der Unvollkommenheit der Welt so vollkommen wie möglich umzugehen.
"Meine Seminare, Workshops, Ausbildungen und die Einzelarbeit zielen in erster Linie darauf ab dir zu zeigen, dich selbst und dadurch deine Umwelt zu verstehen, Gedanken, Bewertungen, Projektionen, Schlussfolgerungen, Mutmassungen, Muster, Programmierungen, Glaubenssätze und Verhaltensweisen aufzudecken, neue Wahlmöglichkeiten zu finden und dadurch eine Veränderung zu erfahren, die dir, in erster Linie ein freieres und bewussteres Leben ermöglichen soll."
Ich bin so DANKBAR, mein Wissen, die einfache und schnell wirksame Methode mit dir teilen zu dürfen und freue mich dir Möglichkeiten an die Hand geben zu dürfen, um Herausforderungen des Lebens, in den Bereichen Selbstverwirklichung, Beziehung, Familie, Gesundheit, Finanzen, Erfolg, und noch vielen mehr erfolgreich zu meistern. Zumeist es doch der Verstand ist, der Möglichkeiten limitiert und blockiert.
Möchtest du dich den unendlichen Möglichkeiten öffnen, die dir ein Coaching oder ein Seminar bei mir bietet?
Du kannst gerne auch individuell zu allen Themen Einzelsitzungen oder Gruppencoachings, bei mir buchen.
NEUGIERIG...? Dann bist DU herzlich eingeladen, mich bei meinen Kursen oder in einer privaten Sitzung persönlich kennen zu lernen.
Ich freue mich riesig auf DICH...💜
Herzlichst Denise
Alltag raus – Denise Galasso Coaching- und Seminare am Sempachersee rein!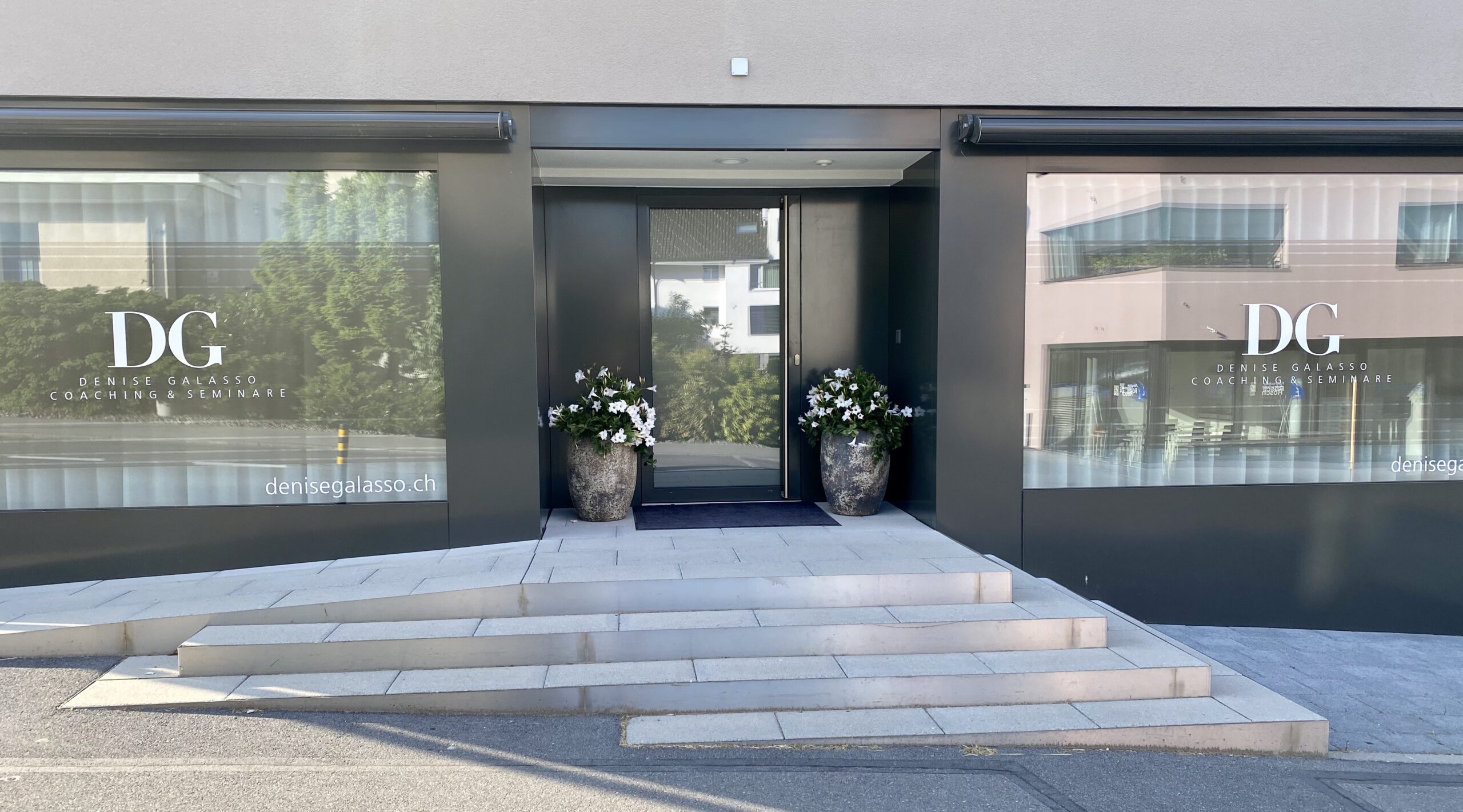 Meine Praxis bietet eine inspirierende Szenerie für die Kurs, im Herzen der Schweiz.
Die Praxis selbst ist ein Bijou und lädt zum SEIN und WOHLFÜHLEN ein. Die grossen und die offenen Räume, gewähren uns Platz und königlichen Komfort in allen Bereichen.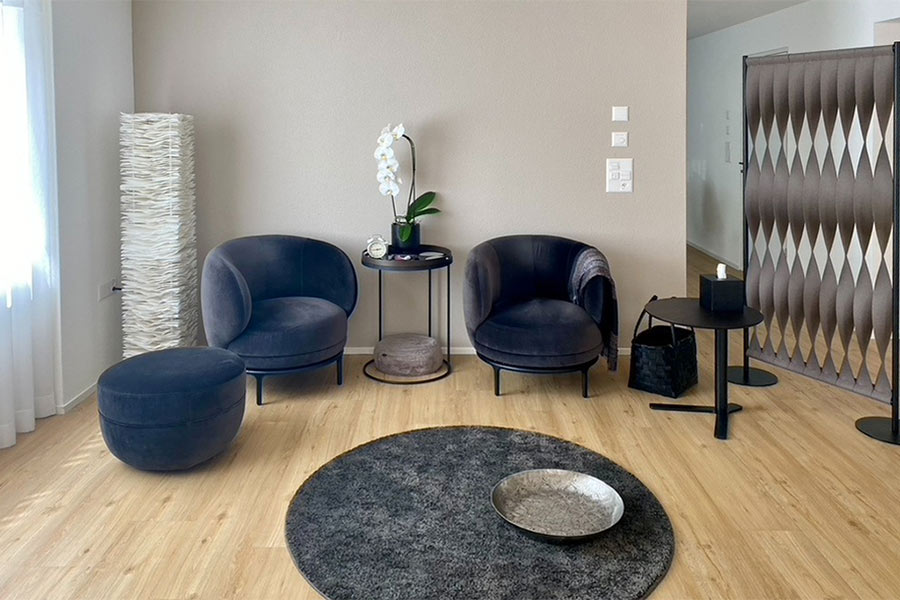 Neuenkirch, im Grünen – und doch in Stadtnähe von Luzern!
ist geprägt durch Ländlichkeit und vielfältiger Natur. Landschaft und See locken zu ausgedehnten Spaziergängen und sportlicher Betätigung.
Verkehrserschliessung:

Neuenkirch ist durch den öffentlichen Verkehr sehr gut mit Postauto und Bahn erschlossen:
Neuenkirch - Luzern, Postautolinie
Sempach Station - Neuenkirch - Rothenburg Station
Sempach Station - Hochdorf
Sempach Station - Sempach - Sursee
SBB Bahnhof Sempach-Neuenkirch an der Linie Basel - Olten - Luzern
Individualverkehr - Autobahnanschlüsse Sempach, Rothenburg oder Emmen Nord
Wie wird es noch besser?
Unterkünfte in der Nähe:
Unterkünfte in der Nähe, finden Sie am einfachsten unter www.ebookers.ch / www.booking.com oder www.airbnb.com

All of Life comes to you with EASE, JOY & GLORY® ❤️
Denise Galasso
Systemischer Coach isi (eca)

Psychologische Beratung
Access Consciousness® Certified Facilitator CF
Access Consciousness® Bars Facilitator BF
Access Consciousness® Body Process Facilitator BPF
Access Consciousness® Facelift™ Facilitator AFF
Coaching- und Seminare am Sempachersee
Bergstrasse 4
CH-6206 Neuenkirch / Luzern
Schweiz / Switzerland
Mobile +41 79 407 08 74
denise.galasso@bluewin.ch
www.denisegalasso.ch

Mein Telegram Kanal:
Herzlich willkommen auf meinem "Bewusstseins" Telegram Kanal.
Hier geht es um deine Bewusstseins-Erweiterung, dein Erwachen. Du bekommst jede Menge Infos zu den aktuellen Energien und Weisheiten für den Aufstieg ins Neue Zeitalter…
Ich freue mich sehr, wenn du dabei bist…Herzlichst Denise ❤️
{{showBio2?"Read Less":"Read More"}}